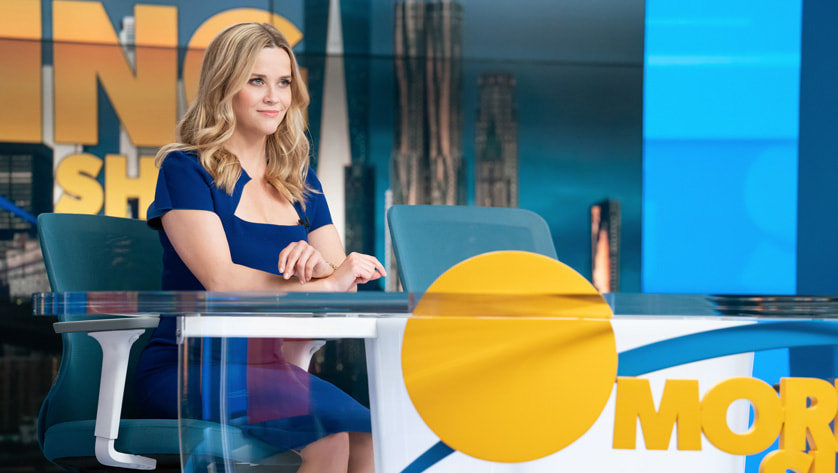 Check out all of this week's new releases on Netflix, Disney+, Amazon Prime Video, BritBox, Apple TV+and other streaming channels, as well what's available on DVD, VOD, Digital and Blu-ray. ~Alexandra Heilbron
The Morning Show: S2 - This new season focuses on how Alex (Jennifer Aniston) and Bradley's (Reese Witherspoon) lives changed after being live on air when they learned of Hannah's death. UBA's president, Fred Micklen, is exposed for his knowledge of sexual misconduct and the toxic work culture at the media organization. But is Cory Ellison's (Billy Crudup) job also in jeopardy after what happened? Tune in to Apple TV+ this Friday, September 17 to find out.
Everybody's Talking About Jamie - Jamie (Max Harwood) has always wanted to dress up in sparkly dresses and high heels and perform onstage. However, this gets him bullied at school. Even his own father is disappointed in Jamie, telling him how badly he wanted a son, so Jamie turns to his mother for support, as well as his best friend. Debuts September 17 on Amazon Prime Video.
Black Widow – Struggling with her past mistakes, Natasha Romanoff (Scarlett Johansson) finds her dark history as an operative for the KGB finally catches up to her. Now hunted by the government that turned her into the Black Widow, Natasha decides to stop running and heads to Budapest, where she reconnects with her sister Yelena (Florence Pugh), their mother figure Melina (Rachel Weisz), and their father figure, Red Guardian (David Harbour). Available September 14 on DVD/Blu-ray.
The Boss Baby: Family Business - The Templeton brothers — Tim (James Marsden) and his Boss Baby little bro Ted (Alec Baldwin) — have become adults and drifted away from each other. Tim is now married and a stay-at-home dad and Ted is a corporate bigwig with no time for family. But when Tim's baby girl turns out to be a boss baby, she gets them together again to stop an evil genius. Available September 14 on DVD/Blu-ray.
Check out our interviews with cast members James Marsden and Ariana Greenblatt:
September 13
Code 8 (Netflix)
Countdown: Inspiration4 Mission to Space (Netflix)
Winona (VOD)
September 14
A StoryBots Space Adventure (Netflix)
Black Widow (DVD/Blu-ray)
The Boss Baby: Family Business (DVD/Blu-ray)
Eli Roth's History of Horror: S2 (DVD/Blu-ray)
Ema (Digital/VOD)
Fast & Furious Presents: Hobbs & Shaw (Netflix)
The Forever Purge (Digital)
Jack Whitehall: Travels with My Father: S5 (Netflix)
Magnum P.I.: S3 (DVD)
The Museum (BritBox)
Only Murders In The Building: S1, New Episode (Disney+)
Skinwalker: The Howl of the Rougarou (DVD)
The World's Most Amazing Vacation Rentals: S2 (Netflix)
You vs. Wild: Out Cold (Netflix)
Zola (DVD/Blu-ray/Digital)
September 15
Alaska's Deadliest: S1 (Disney+)
American Horror Stories: S1, New Episode (Disney+)
Cake: S4 (Disney+)
Castle and Castle: S2 (Netflix)
Coming to America (Netflix)
Nailed It!: S6 (Netflix)
Nightbooks (Netflix)
Reservation Dogs: S1, New Episode (Disney+)
Saved by the Bell: S1-9 (Netflix)
Schumacher (Netflix)
Stardust (Netflix)
Too Hot To Handle Latino (Netflix)
What If…?: S1, New Episode (Disney+)
September 16
El Juego De Las Llaves: S2 (Amazon Original)
Final Space: S3 (Netflix)
He-Man and the Masters of the Universe (Netflix)
Murdoch Mysteries: S14 (Netflix)
My Heroes Were Cowboys (Netflix)
Zombieland: Double Tap (Netflix)
September 17
Ankahi Kahaniya (Netflix)
Chicago Party Aunt (Netflix)
Do, Re & Mi: S1 (Amazon Original)
Everybody's Talking About Jamie (Amazon Original)
Uprising: S1 (Amazon Prime Video)
Black Power (Amazon Prime Video)
Back To The Rafters: S1 (Amazon Original)
The Father Who Moves Mountains (Netflix)
The Killing of Kenneth Chamberlain (VOD)
The Mad Women's Ball (Amazon Original)
The Morning Show: S2 (Apple TV+)
Nona (Disney+)
Making Nona (Disney+)
Rafa Nadal Academy: S1 (Amazon Prime Video)
Sex Education: S3 (Netflix)
Squid Game (Netflix)
The Stronghold (Netflix)
Subnormal (Amazon Prime Video)
Ted Lasso: S2, New Episode (Apple TV+)
El Amarre (Amazon Prime Video)