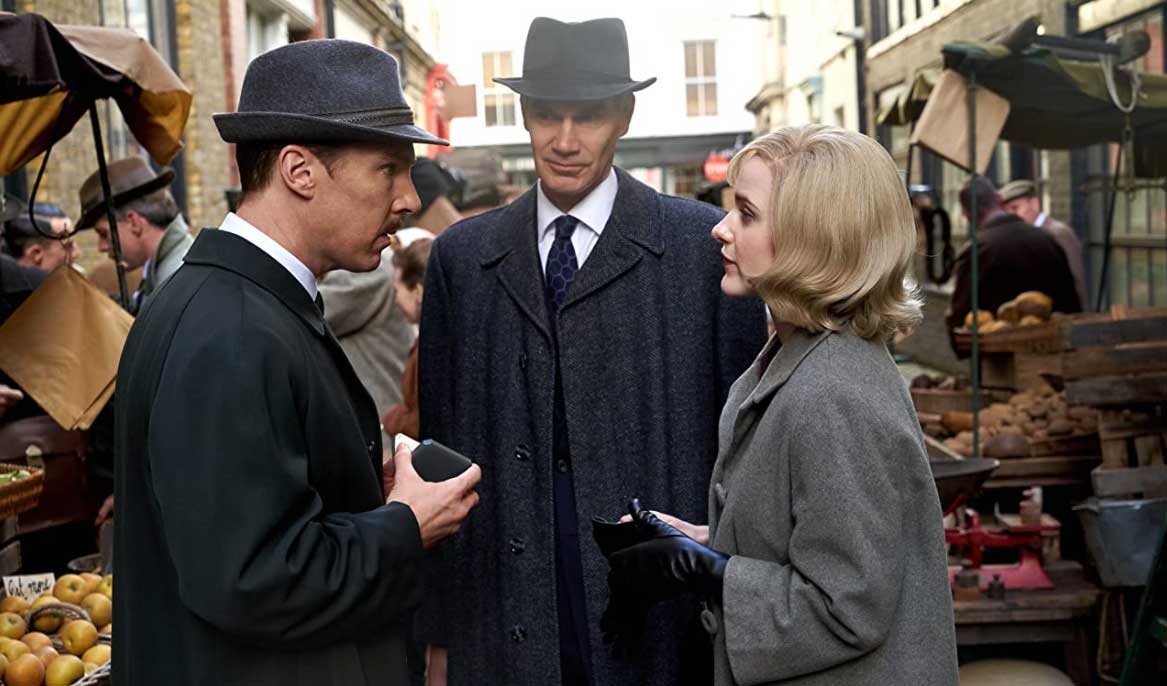 Check out the new DVDs, Blu-rays and streaming shows (Netflix, Amazon Prime Video, Disney+, Sundance Now, BritBox, Apple TV+, Acorn TV and more) coming out this week, including The Courier starring Benedict Cumberbatch, and The Mustang starring Matthias Schoenaerts. ~Alexandra Heilbron
The Courier - Unassuming British businessman Greville Wynne (Benedict Cumberbatch) is recruited into one of the greatest international conflicts in history. At the behest of the UK's MI-6 and a CIA operative (Rachel Brosnahan), he forms a covert, dangerous partnership with Soviet officer Oleg Penkovsky in an effort to provide crucial intelligence needed to prevent a nuclear confrontation and defuse the Cuban Missile Crisis. Available June 1 on DVD/Blu-ray/Digital/VOD.
Sweet Tooth - Ten years ago, "The Great Crumble" wreaked havoc on the world and led to the mysterious emergence of hybrids — babies born part human, part animal. Unsure if hybrids are the cause or result of the virus, many humans fear and hunt them. After a decade of living safely in his secluded forest home, a sheltered hybrid deer-boy named Gus (Christian Convery) unexpectedly befriends a wandering loner (Nonso Anozie). Together they set out on an extraordinary adventure across what's left of America in search of answers. But their story is full of unexpected allies and enemies, and Gus quickly learns the lush, dangerous world outside the forest is more complex than he ever could have imagined. Debuts on Netflix June 4.
The Mustang - Roman (Matthias Schoenaerts), a convict in a rural Nevada prison who struggles to escape his violent past, is required to participate in an "outdoor maintenance" program as part of his state-mandated social rehabilitation. Spotted by a no-nonsense veteran trainer (Bruce Dern) and helped by an outgoing fellow inmate and trick rider (Jason Mitchell), Roman is accepted into the selective wild horse training section of the program, where he finds his own humanity in gentling an especially unbreakable mustang. Debuts on Netflix June 1.
Crooked House - Agatha Christie's most twisted tale is adapted for the screen by Julian Fellowes of Downton Abbey fame. Suspicious circumstances surrounding the death of a wealthy patriarch are investigated by spy-turned-private-detective Charles Hayward (Max Irons), who is lured by his former lover to catch her grandfather's murderer before Scotland Yard exposes dark family secrets. On the sprawling estate, Hayward encounters three generations of the dynasty, including a theater actress (Gillian Anderson), the old man's widow 50 years his junior (Christina Hendricks), and the family matriarch Lady Edith de Haviland (Glenn Close). Debuts on Netflix June 1.
May 31
The Most Dangerous Year (Sundance Now)
Strike a Pose (Sundance Now)
June 1
21 & Over (Netflix)
A.X.L. (Netflix)
Agatha Christie's Crooked House (Netflix)
Air Force One (Netflix)
ALVINNN!!! And the Chipmunks: S1 (Netflix)
ALVINNN!!! And the Chipmunks: S2 (Netflix)
Austin Powers in Goldmember (2002) (Tubi)
Black Holes (Netflix)
The Edge of All We Know (Netflix)
Boogie (DVD/Blu-ray/VOD)
CoComelon: A Sunny Day for Play (Netflix)
The Courier (DVD/Blu-ray/Digital/VOD)
Embattled (DVD/Blu-ray)
Endangered Species (DVD/Blu-ray/Digital/VOD)
Equal Standard (VOD/Digital)
Genndy Tartakovsky's Primal: The Complete First Season (DVD/Blu-ray)
Ghost in the Shell (2017) (Tubi)
Green Lantern (2011) (Tubi)
Hitch (Netflix)
How to Train Your Dragon (2010) (Tubi)
Lara Croft 2-Movie Collection (4K UHD)
Lara Croft: Tomb Raider (Blu-ray)
The Last Airbender (2010) (Tubi)
LEGO Ninjago: Season 2 (Netflix)
LEGO Ninjago: Secrets of Forbidden Spinjitzu (Netflix)
The Looney, Looney, Looney Bugs Bunny Movie (Netflix)
The Mustang (Netflix)
Oculus (Netflix)
P.S. I Love You (2007) (Tubi)
Season of the Witch (Netflix)
Seven Souls in the Skull Castle: Season Moon Kagen (Netflix)
Shoplifters of the World (DVD/Blu-ray)
Spare Parts (DVD/Blu-ray)
Super Monsters: Once Upon a Rhyme (Netflix)
Teenage Mutant Ninja Turtles (2014) (Tubi)
The Syndicate: Double or Nothing (BritBox Original)
Thomas and Friends: Season 24 (Netflix)
The Town (Netflix)
Trigger Point (DVD/Blu-ray/VOD/Digital)
The Vault (DVD/Blu-ray)
The World to Come (DVD/Blu-ray/Digital/VOD)
June 2
The Best Man Holiday (Netflix)
Carnaval (Netflix)
Erin Brockovich (Netflix)
Mr. Bean's Holiday (Netflix)
Psycho (1960) (Netflix)
Psycho (1998) (Netflix)
Unfriended (Netflix)
Van Helsing (Netflix)
The Visit (Netflix)
June 3
Alan Saldaña: Locked Up (Netflix)
Creator's File: GOLD (Netflix)
Dancing Queens (Netflix)
Pretty Guardian Sailor Moon Eternal The Movie: Part 1 / Part 2 (Netflix)
Summertime: Season 2 (Netflix)
June 4
Big Shot: S1, New Episode (Disney+)
Breaking Boundaries: The Science of Our Planet (Netflix)
Disney's Amphibia: S2 (Disney+)
Edge of the World (VOD/Digital)
Feel Good: Season 2 (Netflix)
Glee: The 3D Concert Movie (Disney+)
The Gods Must Be Crazy II (Disney+)
Grown-ish: S3, New Episode (Disney+)
High School Musical: The Musical: The Series: S2, New Episode (Disney+)
Human: The World Within (Netflix)
Lisey's Story: New limited series (Apple TV+)
Raya and the Last Dragon (Disney+)
Star Wars: Droids: S1-2 (Disney+)
Star Wars: The Bad Batch: S1, New Episode (Disney+)
Sweet Tooth (Netflix)
Trippin' with the Kandasamys (Netflix)
Marvel's M.O.D.O.K.: S1, New Episode (Disney+)
Marvel Studio's Legends: S1, New Episode (Disney+)
Us Again (Disney+)
X-Men: Dark Phoenix (Disney+)
Xtreme (Netflix)
June 5
Kitty Love: An Homage to Cats (Netflix)