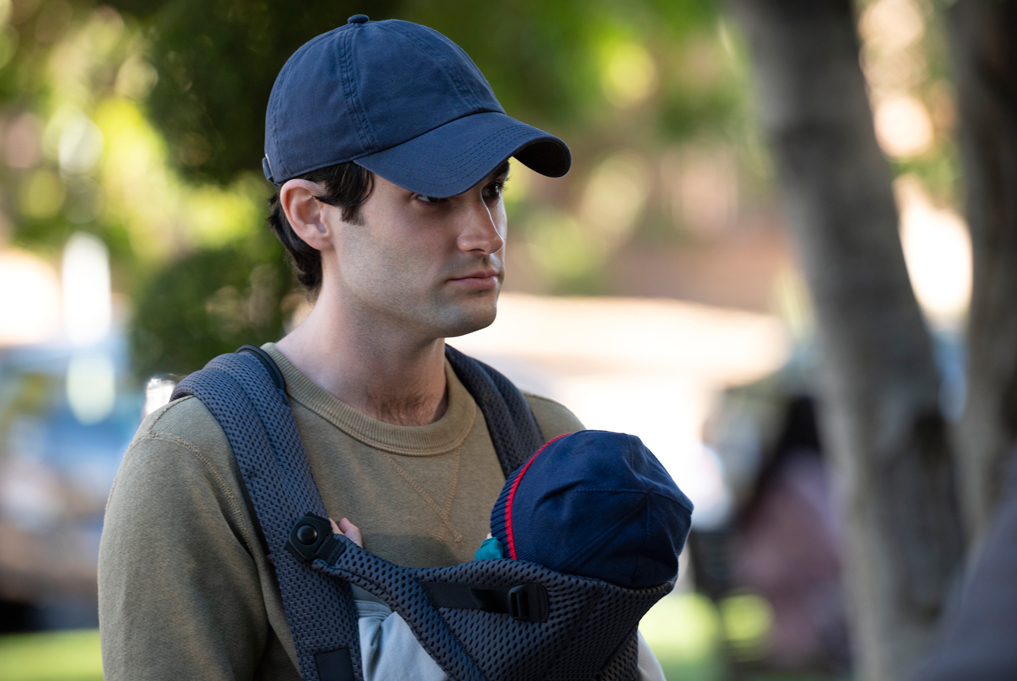 There's plenty to watch on streamers such as Netflix, Amazon Prime Video, Disney+, Apple TV+ and BritBox, as well as new DVDs and Blu-rays to choose from. Check out this week's selection below! ~Alexandra Heilbron
The Baby-Sitters Club: S2 - As Kristy (Sophie Grace) gets used to living with Watson's family after her mother's wedding, she continues to keep up with the Baby-Sitters Club. She and her friends Mary-Anne (Malia Baker), Claudia (Momona Tamada), Stacey (Shay Rudolph) and Dawn (Kyndra Sanchez) welcome Mallory (Vivian Watson) and Jessi (Anais Lee) to their ranks. With the new school year comes booming business, new relationships, personal journeys, and important lessons, but through it all the girls are there for each other every step of the way. Debuts October 11 on Netflix.
Watch our interview as stars Malia Baker and Momona Tamada talk to Alexandra Heilbron about what the new season of The Baby-Sitters Club has to offer and Malia reveals a secret about one scene that even Momona didn't know!
I'm Your Man - The ideal new "man" named Tom (Dan Stevens) in Alma's (Maren Eggert) life is a robot. Alma, a scientist at the Pergamon Museum in Berlin, participates in a new study and Tom is the product of what has been determined to be her dream partner. Alma is only looking to fulfill the base requirements of this study in order to secure funding she needs for her own project, but in time, Tom slowly begins to win her over as she starts to develop genuine feelings for him. Available October 12 on VOD.
Free Guy - A bank teller (Ryan Reynolds) who discovers he is actually a background player in an open-world video game decides to become the hero of his own story… one he rewrites himself. Now in a world where there are no limits, he is determined to be the guy who saves his world his way... before it's too late. Available October 12 on DVD/Blu-ray.
You: S3 - Newly married, Joe (Penn Badgley) and Love (Victoria Pedretti) have moved into a suburban community with their newborn son to start fresh. When Joe meets his new neighbor Natalie (Michaela McManus), he falls back into his cycle of compulsiveness. Debuts October 15 on Netflix.
October 11
The Baby-Sitters Club: S2 (Netflix)
The King's Affection (Netflix)
October 12
Brideshead Revisited Remastered in 4K (BritBox)
Bright: Samurai Soul (Netflix)
The Colony (Digital/DVD/Blu-ray)
Convergence: Courage in a Crisis (Netflix)
Don't Breathe (Digital)
The Flash: The Complete Seventh Season (DVD/Blu-ray)
Free Guy (DVD/Blu-ray)
The Green Knight (DVD/Blu-ray)
The Haunting of Bly Manor (DVD/Blu-ray)
Hawthorne: The Complete Series (DVD)
I'm Your Man (VOD)
In the Earth (DVD)
The Old Ways (Digital/DVD/Blu-ray)
Only Murders In The Building: S1, New Episode (Disney+)
The Loneliest Whale: The Search for 52 (DVD)
Making Malinche: A Documentary by Nacho Cano (Netflix)
Mighty Express: S5 (Netflix)
The Movies That Made Us: S3 (Netflix)
Roadrunner: A Film About Anthony Bourdain (DVD)
Survive The Game (DVD/Blu-ray)
The Titans That Built America (DVD)
October 13
The Blacklist: S8 (Netflix)
Chip 'N' Dale: Park Life: S1, Finale (Disney+)
Dat Ene Woord: Feyenoord (AKA: That One Word Feyenoord): S1, New Episode (Disney+)
Doogie Kamealoha, M.D.: S1, New Episode (Disney+)
Fever Dream / Distancia de Rescate (Netflix)
Hiacynt (Netflix)
Just Beyond: S1 (Disney+)
Love Is Blind: Brazil (new episodes weekly) (Netflix)
Reflection of You (Netflix)
Reservation Dogs: S1, New Episode (Disney+)
Violet Evergarden the Movie (Netflix)
Zombies: Addison's Moonstone Mystery Shorts: S1 (Disney+)
October 14
Another Life: S2 (Netflix)
Kim's Convenience: S5 (Netflix)
One Mic Stand: S2 (Amazon Original)
One Night in Paris (Netflix)
October 15
Between Forever (Digital)
Breaking Them Up (Digital)
Chaos Walking (Amazon Prime Video)
CoComelon: S4 (Netflix)
Deep Impact (Netflix)
Demigod (VOD)
The Forgotten Battle (Netflix)
The Four of Us (Netflix)
G.E.O. Más Allá Del Límite (Amazon Original)
Grave Intentions (Digital)
House of Cards Trilogy (BritBox)
I Know What You Did Last Summer (Amazon Original)
If You Give A Mouse A Cookie: S2, Part 4 (Amazon Original)
Karma's World (Netflix)
Little Things: S4 (Netflix)
Michael Jackson's This Is It (Netflix)
The Morning Show: S2, New Episode (Apple TV+)
My Best Friend's Wedding (Netflix)
My Name (Netflix)
PAW Patrol: S8 (Netflix)
Sharkdog's Fintastic Halloween (Netflix)
The Trip (Netflix)
You: S3 (Netflix)
October 16
The General's Daughter (Netflix)
Misfit: The Series (Netflix)
Super 8 (Netflix)
October 17
Hellboy (Netflix)