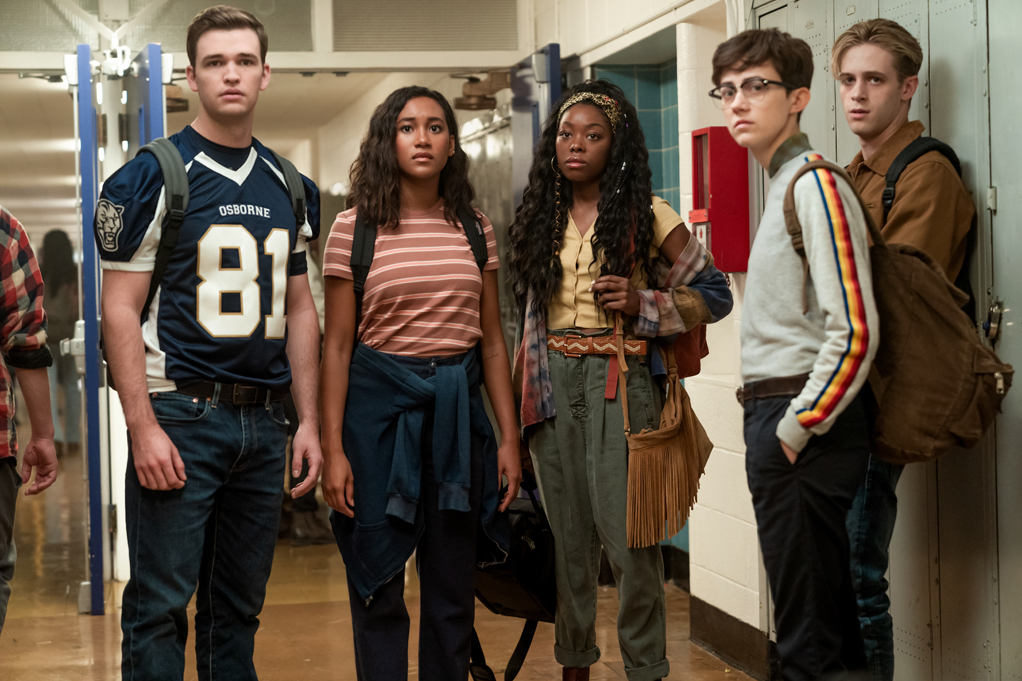 It's the first week of October and there's plenty to keep you entertained at home, including the scary Netflix movie There's Someone Inside Your House and the latest Justin Bieber concert from Amazon Prime Video. Check out everything that's available to watch below! ~Alexandra Heilbron 
There's Someone Inside Your House - Makani Young (Sydney Park), a teen in her final year of high school, has moved from Hawaii to quiet, small-town Nebraska to live with her grandmother. As the countdown to graduation begins, her classmates are stalked by a killer intent on exposing their darkest secrets to the entire town, terrorizing victims while wearing a life-like mask of their own faces. Begins streaming on Netflix October 6.
Space Jam: A New Legacy - NBA superstar LeBron James just can't seem to connect with his son Dom, who dreams of becoming a videogame developer, because he enjoys creating games more than playing them. LeBron and Dom's world gets flipped upside down when the two of them get sucked into the Server-Verse, a digital space controlled by a rogue A.I. named Al-G Rhythm (Don Cheadle). For LeBron to save his son and bring them back home, he first must defeat Al-G Rhythm on the basketball court. Available October 5 on DVD/Blu-ray/Digital/VOD.
Broken Diamonds - Ben Platt (Dear Evan Hansen) stars as Scott, an aspiring young writer who wants to move to Paris to pursue his dream, but when he gets news that his father has passed away, he has to take care of his schizophrenic sister, Cindy (Lola Kirke). Although they're not exactly close, Scott puts his plans to move to Paris on hold and moves in with Cindy to take care of her when it becomes clear that her illness is too much for her to handle by herself. Available October 5 on DVD/Blu-ray/Digital/VOD.
Justin Bieber: Our World - Justin Bieber prepares and then performs a concert on the roof of the legendary Beverly Hilton on New Year's Eve. The concert is supplemented by footage shot by Bieber and his wife Hailey, bringing the audience into their home and daily routine. Debuts on Amazon Prime Video October 8.
October 4
Blue's Clues & You!: S1 (Netflix)
On My Block: S4 (Netflix)
October 5
Broken Diamonds (DVD/Blu-ray/Digital/VOD)
Escape Room: Tournament of Champions (DVD/Blu-ray/Digital/VOD)
Escape The Undertaker (Netflix)
The Great Canadian Baking Show: S4 (Netflix)
Mommie Dearest (Blu-ray)
Only Murders in The Building: S1, New Episode (Disney+)
Six Minutes to Midnight (DVD/Blu-ray/Digital/VOD)
Space Jam: A New Legacy (DVD/Blu-ray/Digital/VOD)
October 6
A Million Ways to Die in the West (Netflix)
About a Boy (Netflix)
Among the Stars (Disney+)
Bad Sport (Netflix)
Baking Impossible (Netflix)
Black Widow (Disney+)
Chip 'N' Dale: Park Life: S1, New Episode (Disney+)
Dat Ene Woord: Feyenoord (AKA: That One Word Feyenoord): S1, New Episode (Disney+)
Despicable Me (Netflix)
Despicable Me 2 (Netflix)
Doogie Kamealoha, M.D.: S1, New Episode (Disney+)
Drag Me to Hell (Netflix)
Dragonheart (Netflix)
Fauci (Disney+)
Fear (Netflix)
The Five Juanas (Netflix)
Land of the Lost (Netflix)
Love Is Blind: Brazil (Netflix)
Minions (Netflix)
Reservation Dogs: S1, New Episode (Disney+)
There's Someone Inside Your House (Netflix)
The Thing (Netflix)
Turner & Hooch: S1, Finale (Disney+)
Werewolves Within (Netflix)
What If…?: S1, Finale (Disney+)
October 7
The Billion Dollar Code (Netflix)
Knocked Up (Netflix)
Sexy Beasts: S2 (Netflix)
​​The Way of the Househusband: S1, Part 2 (Netflix)
October 8
A Tale Dark & Grimm (Netflix)
Acapulco (Apple TV+)
Disney Junior Mickey's Tale Of Two Witches (Disney+)
Family Business: S3 (Netflix)
Get Rolling With Otis (Apple TV+)
Grudge / Kin (Netflix)
Honey Boy (Netflix)
House of Secrets: The Burari Deaths (Netflix)
Jessy and Nessy: S1, Part 4 (Amazon Original)
Justin Bieber: Our World (Amazon Original)
The Kids In The Hall: S1-S5 (Amazon Prime Video)
LOL Surprise: The Movie (Netflix)
The Manor (Welcome to the Blumhouse) (Amazon Original)
Madres (Welcome to the Blumhouse) (Amazon Original)
The Morning Show: S2, New Episode (Apple TV+)
Muppets Haunted Mansion (Disney+)
My Brother, My Sister (Netflix)
Pan Y Circo: S2 (Amazon Original)
Pokémon the Movie: Secrets of the Jungle (Netflix)
Pretty Smart (Netflix)
Our Cops in the North: Part 2 (BritBox)
Ted Lasso: S2, New Episode (Apple TV+)
Under Wraps (Disney+)
October 9
Blue Period (Netflix)